About Us
Achieving universal access to sanitation, hygiene and menstrual health is achievable but the world is simply not taking enough action. At the Sanitation and Hygiene Fund (SHF) we are aiming to be transformative in our approach.
We are a dedicated UN fund that takes the best ideas from development financing and applies them to countries with the highest need, yet least ability to respond. Our approach is to first look at the needs of the country, identify social benefits in health and education and the economic costs that can be avoided by having access to sanitation and hygiene. We then identify the best way to invest our time and resources to ensure that our funding is targeted and well placed to achieve the greatest impact.
SHF drives change by working with those needing investment, and with those having funds to invest. We focus on country priorities to tackle complex issues that are limiting the sanitation economy.  Together with governments and their partners we are passionate about leaving no-one behind. 
Meet our Board and Leadership.
Image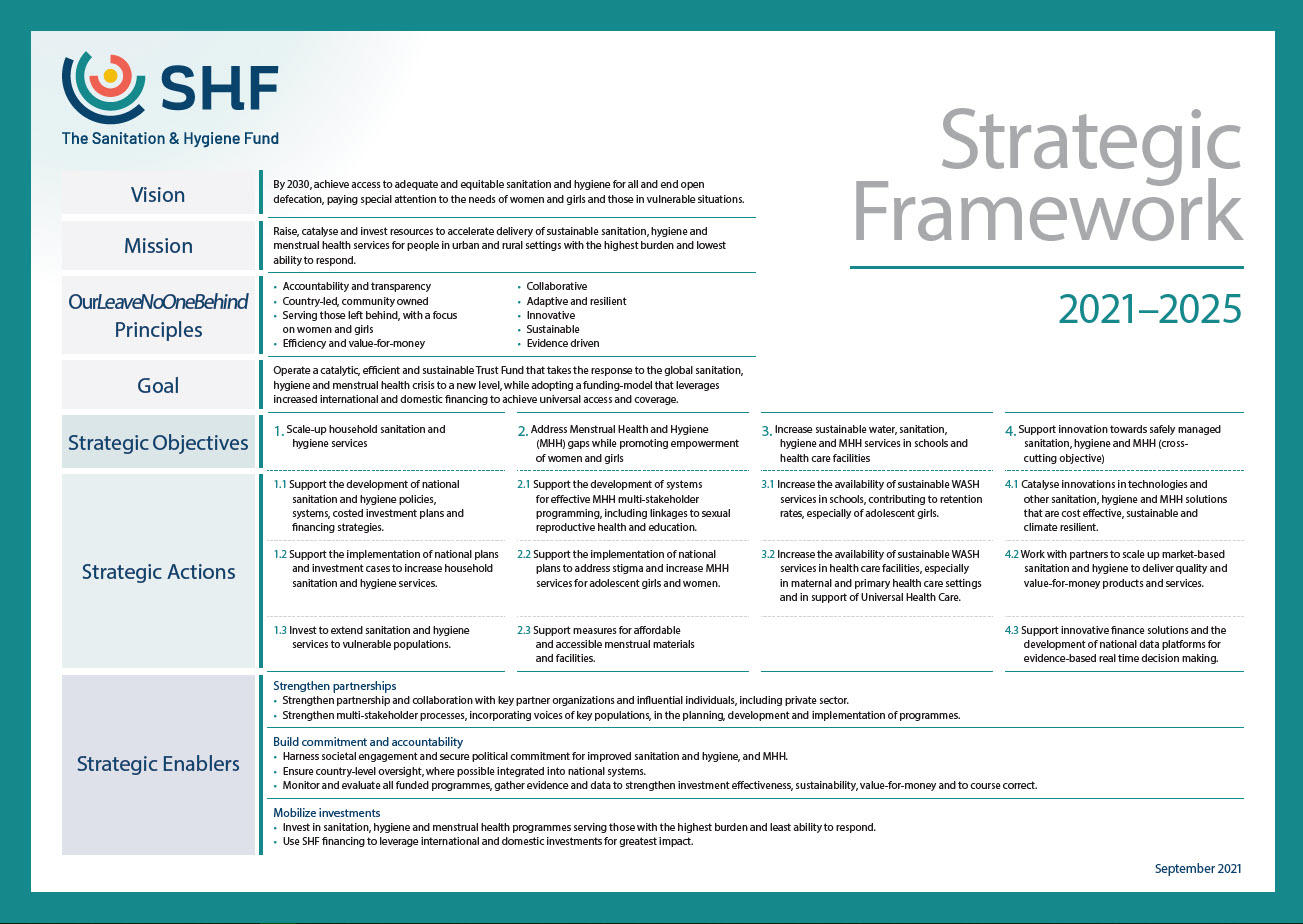 TIME TO ACT
Lack of sanitation, hygiene and menstrual health poses risks to individuals and hampers development.
Our vision is that of the Sustainable Development Goal 6 target 2, to achieve access to adequate and equitable sanitation and hygiene for all and to end open defecation, paying special attention to the needs of women and girls and those in vulnerable situations.
3.6 billion 
people (46%)
of the world's population still lack access to safely managed sanitation services
494 million people
(6%)
of the world's population still practice open defecation 
2.3 billion people
(29%)
of the world's population do not have basic handwashing facilities at home
More than 1 in 3 schools
globally lack access to basic sanitation services
1 in 3
health care facilities
globally do not have adequate facilities to clean hands 
Every day, HUNDREDS OF MILLIONS
of women and girls menstruate, TENS OF MILLIONS without the facilities to manage their menstrual health safely
VOICES OF SUPPORT
We are pleased to share individual interviews between the Sanitation and Hygiene Fund launch moderator, Ms Zeinab Badawi.
Ms Amina Mohammed
United Nations Deputy Secretary-General
Mr Yemi Osinbajo
Vice President of Nigeria
Ms Grete Faremo
Executive Director of UNOPS
Ms Henrietta Fore
Executive Director of UNICEF
Mr Dominic O'Neill
Executive Director of the Sanitation and Hygiene Fund
Mr Gilbert Houngbo
Chair of UN-Water and President of IFAD
Dr Zsuzsanna Jakab
Deputy Director-General of the World Health Organization
Ms Abenmire Adi from Nigeria & Ms Petronila Musonye from Kenya
Community Activists
The SHF is a trust fund managed by UNOPS